Too Many Customers!
---
Codes is now considered a high traffic page.
This page is frequently visited. As this page may be easily vandalized by random users, this page has been protected, and only autoconfirmed users and wiki administrators can edit it. If you would like a change made to the page, please contact an administrator.
Codes are a mechanic that were added on the update of April 10th, 2021. They can be only be found on the Twitter account @Grandmasfaves.
How to redeem codes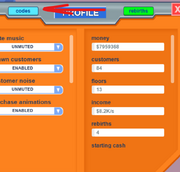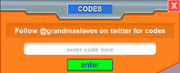 First, the player must click on the 'Profile' button, located on the left side of the screen. Then, the player must hit the 'Codes' button to access the code redeem GUI. Type the correct code in and the player will receive rewards.
Available codes
This is the list of codes that can be used. Please note these codes are not case-sensitive.
| Code Name | Reward | Added On |
| --- | --- | --- |
| grandmasfavouritefriend | 1 random free Legendary Store | May 1, 2021 |
| legendary | 1 random free Legendary Store | April 9, 2021 |
List of expired codes
These are the codes that have EXPIRED. Do not try to redeem these codes.
| Code Name | Previous Rewards | Expired On |
| --- | --- | --- |
FAQ Links